St Richard's Hospice Celebration Garden Sponsorship 2022
Blue Print Direct Mail is proud to support St Richard's Hospice Celebration Gardens Appeal 2022. This is the second year running for us as official sponsor of their annual Celebration Garden appeal. As a provider of services to hospices, we know how St Richard's addresses the needs of many people throughout Worcestershire and, without the valuable support of individuals and businesses, would not be able to carry out their vital and dedicated work. We have taken this opportunity to get involved and show how grateful we are to them for their contribution to the county of Worcestershire and its people.
Join us and St Richard's Hospice to create a stunning kaleidoscope of butterflies taking flight in Worcester this summer in a Celebration Garden and raise much needed funds at the same time.
1,000 intricately painted, hand-crafted butterflies will create a beautiful display at St Andrew's Spire from 12th to 29th August 2022.
The unique display of stunning butterflies follows the success of St Richard's previous Celebration Gardens of bees, forget-me-nots, dragonflies and snowdrops. Each butterfly is uniquely commissioned from craftsman Ed Alvis of Metal Art UK.
So why not celebrate or remember someone or something special with one of the beautiful butterflies in the display, which can be taken home as a keepsake or a gift.
To learn more about the Celebration Gardens, please visit strichards.org.uk/beautiful-butterflies-flutter-at-the-spire-for-hospice/
We also had the pleasure of providing our mailing services for St Richard's Celebration Garden Appeal. The Mailing consisted of an A4 extended letter with a drop down order/donation form, a DL prepaid return envelope and an engaging C5 outer envelope showcasing the fantastic campaign.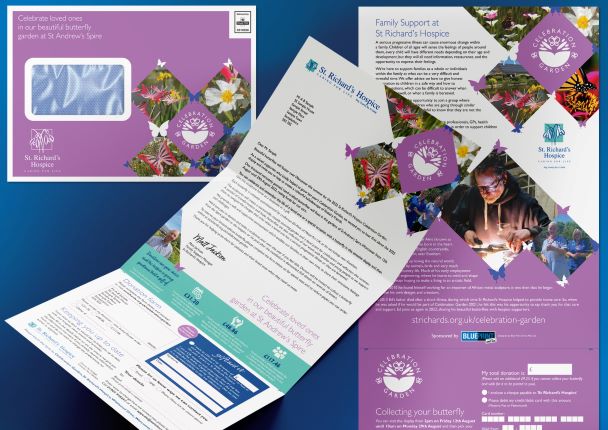 Want to create a mailing similar to St Richard's? Please email us at sales@bpdm.uk or call us on 01905 521 118 to discuss further.